Review of the Golden Comforter Series Lift Chairs
The Golden Comforter Series is a group of lift chairs that are designed to fit a variety of body sizes, while offering lumbar support and easy to grasp arm-rests. This includes several wide heavy duty, or bariatric, lift chairs, which have a higher weight capacity and offer a significantly wider seat.
With the exception of the PR-502 Bariatric Lift Chair, the rest of the lift chairs in the Comforter Series are three position lift chairs. The PR-502 is an infinite position lift chair, which means the foot rest and backrest operate independently of one another.
The Comforter Series can be broken up into two categories, regular and wide, with several models to choose from in each category. They feature a split seamed backrest.
Table of Contents
Standard Features of the Comforter Series
Three Position Lift Chairs, except for the infinite position PR-502.
Chaise Seat.
Lifetime warranty on the lifting mechanism, lift frame, and chair frame.
3 year warranty on electric components and 3 year warranty on electrical/mechanical labor.
Easy to remove backrest.
Smart Tek Inside Electronics.
Left Hand Control Unit available.
Hand made in the United States.
Smooth and Quite Lift System.
Emergency Battery backup, which uses 9 volt batteries.
5 standard fabrics to choose from.
Meets California's Bulletin 117, regarding Fire Retardation.
Optional Features Available for the Comforter Series*
Prorated warranty for up to 7 years.
Extra lift chair pocket.
Heat and Massage Options.
Straight Lift Option.
Custom Fit available, to accommodate all body types.
32 fabric upgrades available.
* Some options may only be available with certain models.
Fabrics Available with the Heritage Collection
There are five standard fabrics available with the lift chairs of the Heritage Collection, including Palomino, Admiral, Evergreen, Cabernet, and Dorado Tan. With the exception of Dorado Tan, the other fabrics include SoftTouch Stain Defense.

Optionally, there are an additional 32 fabrics to choose from, which include several additional SoftTouch Stain Defense Fabrics, Vinyls, and a number of other color choices. This includes a Merlot colored fabric that meets California TB133, which is an advanced fire-protection specification.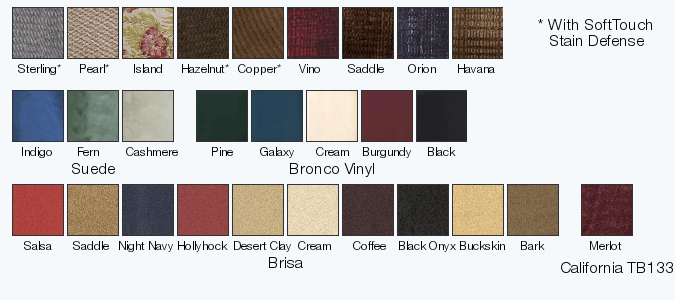 Different Lift Chairs in the Comforter Series
-PR-501 Standard Lift Chairs
-PR-501 Wide Lift Chairs
-PR-502 Bariatric Lift Chair
Putting the Comforter Series in Perspective
Golden's Comforter Series is essentially two different lift chair models, which come in a variety of sizes. The PR-501 comes in both standard and wide sizes, with the PR-502 offering a heavy duty lifting option, supporting up to 700 pounds.
From a design standpoint, these lift chairs are all very similar, utilizing a vertically seamed backrest, which has added lumbar support. They can accommodate height ranges from less than 5′ up to 6'8″, depending on the model.
The main difference between the various PR-501 lift chairs is the weight/height limits, as well as seat width.
Thoughts on the Comforter Series
One of the main advantages of the Comforter Series is that it is designed to fit a number of different body sizes, including offering a heavy duty bariatric lift chair(PR-502) and 3 other wider lift chairs.
Another nice feature is the standard SofTouch Stain Defense, which can help improve the life of the fabric, which is generally not covered by warranties. Golden also offers a more comprehensive warranty on their lift chairs than Pride does, although both companies are quality lift chair manufacturers.
Since the design and fabric options are identical across the different models, the choice will come down to which lift chair fits the users body. With that said, the PR-502 Heavy Duty Model is an infinite position lift chair, meaning the backrest and footrest operate separately, while the other lift chairs have a three position recline system.