Published by Steve Hedberg on September 14, 2009 Under home medical
With the advancement of age, there are several diseases and conditions whose effects become more pronounced and common. Among them, arthritis is one of the more common and well recognized, but there are many other diseases that are found more frequently among the elderly. Often, these conditions will have a very big impact on a seniors life, making many of the tasks that are preformed daily much more difficult.
Among those seniors and people over 65 who suffer from arthritis and other diseases, often standing up and sitting down can become very difficult. This is seen not only in the living room, but also the bathroom and staircase. To help make it easier and safer for an elderly person to stand up, there are several common medical devices used in the home.
Lift Recliners: Living Room Lifting Aids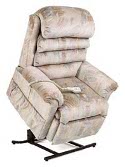 In the living room, it is not uncommon for a senior to have trouble getting into and out of their chair. This problem can be compounded by low furniture, such as a very deep couch. To help make standing in the living room safer, many people use lift chairs.
Lift chairs look similar to recliners and can offer all of the same services, such as a footrest and reclining backrest. However, these chairs also provide a way for its occupant to safely stand without assistance. The entire lift chair is raised and lowered using a powerful lifting system. When the lift recliner is fully raised, exiting the chair is possible in a standing position.
Bath Lifts and Toilet Seat Lifts: Bathroom Lifting Aids

The living room is not the only place that can be difficult to stand for a senior and the bathroom actually presents a number of dangers. These dangers are brought about by very hard surfaces, in addition to slippery surfaces, which are prone to becoming wet. This is one reason that using a non-skid bath mat and sturdy guard rails in the bathroom is very important. However, sometimes this isn't enough to ensure safety, so bath lifts and toilet seat lifts are used.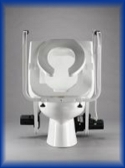 Bath lifts come in several different designs, but the most common fits directly into a bathtub and is secured to the floor of the tub with powerful suction cups. A chair is provided that raises and lowers the user into and out of the bathtub. Some, provide a reclining backrest, while others are simply made of solid molded plastic.
Toilet Seat Lifts are also popular and fit over a toilet, usually without requiring any modification to the toilet itself. When activated, the seat of the toilet seat lift rises, making it easier to stand up. Most toilet seat lifts include grab bars on either side of the lift, to ensure that the device can be used safely.


Stair Lifts: Staircase Lifting Aids
The staircase can also present a number of dangers to a senior or other person who has mobility related problems. Even a short fall on the stairs can often lead to a very serious injury, so making the stairs safer is very important. Many seniors use stair lifts on their staircase. Stair lifts carry a senior up and down the stairs, usually using a plastic chair.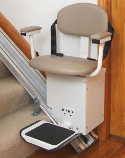 This ensures that the senior will not have to struggle walking up the stairway, but instead can rely on the stair lift to do the heavy lifting, as it were. Standing stair lifts, called perch lifts, are also available, but are not recommended for most users, because they require more balance. Instead the seated stair lift, called a stair chair, is almost always the better option.
No Comments |