Published by Steve Hedberg on July 13, 2009 Under home medical
During the course of the normal aging process, it is not uncommon for an individual to move a little slower as they grow older. It may even take a little longer to process thoughts, but in a healthy senior, the underlying intelligence is not affected by age alone. However, there are a number of diseases, such as arthritis, that seniors are at an increased risk for. These types of mobility related disorders can make a number of tasks much more difficult.
One of the most common tasks to become more difficult as a result of arthritis is that of standing up and sitting down. This is because arthritis is a joint disorder that can make it very painful to bend the knees and other joints. This pain is often amplified after having been still for an extended period of time. As a result, even sitting down to watch the news might be long enough to cause joint discomfort when the senior tries to stand again.
Arthritis is not the only factor that can make standing or sitting more difficult for a senior, but it is the most common. Other factors include limited eyesight, dementia, and injuries. Since difficulty standing without assistance is so common for seniors, there are a number of mobility related products to address this issue.
Riser Recliners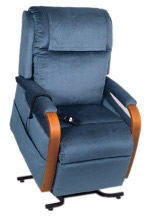 Since it is so common for seniors to have difficulty standing in the living room, the lift chair is one of the most common types of standing aids. Lift chairs are also often called riser recliners because they are visually very similar to recliners and offer a reclining backrest, as well as a leg rest. Riser Recliners are, however, actually very different from regular recliners.
Riser recliners make standing easier because a lifting system in the base of the chair raises the entire chair into the air. Using a simple hand control, the senior can press a button to raise or lower the chair, making standing safe and easy. Lift chairs remain one of the most important standing aids for seniors.



Toilet Seat Lifts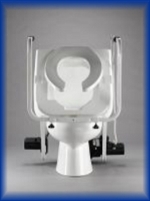 Another common type of lifting aid is the toilet seat lift. A toilet seat lift is designed to help a senior, or other individual with limited mobility, safely get off of the toilet.
These devices are electronically operated and typically are placed over a traditional toilet. Toilet seat lifts provide armrests for extra support and can make the bathroom much safer. Most toilet seat lifts are designed so that they can be installed without having to modify the toilet or bathroom, so can be used when traveling or away from home.



Bath Lifts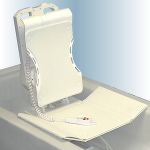 Bath lifts are another popular type of standing aid for those who have difficulty getting into and out of the bathtub. This is an important tool, because a fall in the bathroom can be very serious and anytime you are around water, the risk of a fall increases.
Most bathtub lifts offer a plastic seat, which can be raised or lowered the height of the bathtub. They are usually secured to the floor of the bathtub using strong suction cups, which means that there is no need to modify the bathtub. While most use the plastic seat, which often reclines, some bath lifts use an air filled cushion instead. Air powered bath lifts are great for traveling.

Bed Safety
Many seniors also have trouble getting out of bed, which can be very painful for someone with arthritis. This is because many types of arthritis cause severe joint discomfort in the morning and evening. Sometimes this only lasts for thirty minutes, but it can last longer than that. To help make it easier to get out of bed, many seniors install special bed handrails onto their bed. There are several common designs, but most are secured to the beds frame and provide several hand holds that the senior can easily grasp.
No Comments |