Published by Steve Hedberg on November 9, 2010 Under lift chairs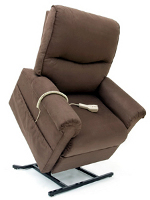 With the complexities of age, there are quite a few factors that can make life a little more difficult for a senior. This includes diseases and conditions that are more common among those over 65, such as arthritis, glaucoma, and osteoporosis.
One common theme that these conditions provide is that of limited mobility and functionality, often making tasks such as standing or sitting much more difficult. To help mediate these sorts of factors, many seniors use lift chairs and other home lifting aids in their homes.
There are quite a few different types of home medical products, which are designed to help make life easier for seniors. From phones with big easy to see buttons, to lift recliners, these medical devices are designed with a specific goal in mind. In the case of the lift recliner, the goal is to make it easier and safer for a senior to stand up or sit down at home, which is often difficult because of mobility related disorders like senior arthritis.
Lift chairs are in essence rather simple devices that offer the comfort of a traditional recliner and footrest. However, the lift chair is not your regular recliner and will also help the user stand up or sit down, without the help of a paid nurse or caregiver. A strong electric motor, located in the base of the chair, is used to power all components of the liftchair, including the footrest and backrest. However, the main purpose of the motor is to lift the recliner in the air, making it easier to exit and enter in a standing position.
Lift recliners come in a number of styles and there are typically enough colors available to find one that will match your needs. The designs differ, with most lift chair manufactures, like Golden Technology or Pride Mobility, offering several unique lines of lift recliners.
These lines typically provide services, such as a value line that is low cost or a specialty line that includes liftchairs that fill a specific need. In the case of the latter, there are a number of specialty chairs designed to make life a little easier or more convenient. Among them are the space saver lift chair, which is designed to offer the full functionality of a lift chair, but take up less space. Unlike normal lift chairs, which must typically be place between 18" and 24" from the wall, a space saver lift chair can be placed much closer, sometimes less than a foot, while still fully reclining.
Selecting the right lift chair is sometimes a little confusing, because there are so many different options and models available. So, it is usually a good idea to first determine the needs of the senior, which include making note of the height and weight, and then finding a lift chair to meet these needs. It is also a good idea to find some lift chair reviews, so you can get a better understanding of how the different lift chair lines stand up to each other.
By selecting a manufacturer who is reputable and stands behind their product, it is possible to find a lift chair that will meet all of your needs, as well as your budget.
No Comments |