Published by Steve Hedberg on September 22, 2009 Under home medical
Not being able to stand up on your own can be very frustrating and have a negative impact on ones life. This is something that many seniors with arthritis and other mobility limiting diseases face everyday, yet it is not something that you have to live with. Instead, there are a number of different types of home medical equipment to address these very issues and make standing possible no matter what room of the house you are in.
The Bathroom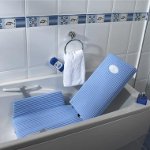 One of the most dangerous places in a home is the bathroom. Anytime you introduce water to an area, there is an increased risk of a fall, with the bathroom floor easily becoming wet and slippery. There are also many hard surfaces in most bathrooms, so a fall in the bathroom often results in a very serious injury.
There are two main types of home medical equipment used in the bathroom, specifically the bath lift and the toilet seat lift.
Bath lifts are designed to make it easier to get into and out of the bath tub. Most are designed so that a metal base is attached to the floor of the bathtub with suction cups and using an electric motor, a plastic chair is raised and lowered the height of the bathtub wall. Since suction cups are used to secure the bath lift in place, there is no need to modify the actual bathtub.
There are also air filled bathlifts available, which are great for traveling, although they can be a little more expensive than the traditional plastic chair bathlift.
The toilet seat lift is designed to make it easier to get onto and off of the toilet. Most form a metal frame around the toilet itself, with the seat portion lining up with the toilet bowl. The seat can then be lowered or raised to make it easier to use the toilet. Toilet seat lifts do not typically require any modification to the toilet, so can be used for traveling.
In addition to using these types of lifting aids, it is also important to ensure that slip resistant mats are placed on the floor, as well as using grab bars throughout the bathroom. It is important to make sure that there is at least one grab bar for all areas, including the bathtub itself.
The Bed Room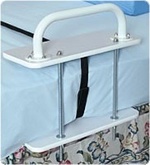 Seniors also often have trouble getting into and out of bed. This is often the result of several types of arthritis, which are most painful in the morning. Many people use hospital beds or adjustable beds in their bedroom, which can be raised and lowered, making it easier to get out of the bed.
Another option is to attach grab bars to the bed itself, which is considerably less expensive than an adjustable bed. There are a number of different designs, which either attach directly to the beds frame or clamp onto the mattress, providing several places for the senior to easily grasp. Bedside Grab Bars can provide a nice way to provide a little extra support when getting into or out of bed.
The Living Room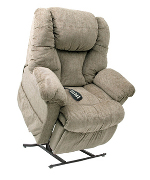 Another problem area is the living room, with a number of seniors not being able to safely get out of their sitting chair. To improve accessibility in the living room, it is possible to use a lift chair. Lift chairs are similar in design to a recliner, but have a powerful lifting device in the base of the chair, which raises the chair and the person using it safely to their feet.
Lift chairs come in all different shapes and sizes, so it is seldom a problem to locate a lift chair that matches a homes décor.
No Comments |