Published by Steve Hedberg on June 2, 2010 Under lift chairs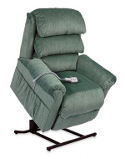 Many of those who are elderly or affected by diseases like arthritis find that it can be quite difficult to stand up sometimes. It can be especially difficult after having been sitting for a while, which can make standing again painful as well. In these kinds of cases, a lift recliner can offer a practical and low cost solution.
The lift recliner, which is more commonly known as the lift chair, provides a comfortable place to sit and all, if not more, of the functionality of a Lazy-Boy Recliner. However, it is not the electronically controlled footrest or backrest that make a lift recliner special. Instead, it is the powerful lifting system installed in the base of the chair, which raises the chair and its occupant.
While there are quite a few different manufacturers, the basic design of the lift chair does not vary too much. Typically, lift chairs resemble a recliner in both design and functionality. There are many optional fabric options to choose from, as well as many different styles, such as the button back design of the Golden Capri Lift Chair.
As a result of the many different models available, it is important to focus on ensuring you find the right size lift chair first and then focusing on design. The weight capacity and width of the lift chair's seat are two of the most important considerations. Exceeding the weight capacity can be dangerous and risks damaging the lifting system, while the seat width, along with the seat depth, are important for comfort and to prevent chaffing. There are many other measurements, such as the height of the user or the length of the backrest that need to also be considered.
For those who need extra weight support, a bariatric lift chair is available. Bariatric lift chairs have multiple electric motors, so they have a significantly higher lifting capacity. Bariatric liftchairs also have a wider and deeper seat that makes them more comfortable. There are even models available that have removable armrests, which are designed to make it easier to transfer into and out of the lift chair.
Two of the most popular lift chair manufacturers are Golden Technology and Pride Mobility. Both of these companies have been around since the eighties and were among the first to develop an electric lift chair. Today, there are many other lift chair manufacturers as well, so it is a good idea to do some research and learn both how lift chairs work and what type of lift chair will best suit your needs. By learning more about lift recliners, like most areas, you will be much better served when it comes to selecting the right liftchair.
No Comments |