Published by Steve Hedberg on January 4, 2010 Under lift chairs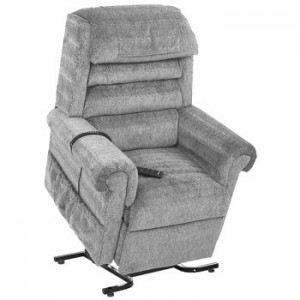 Among seniors and others with arthritis, it can be extremely difficult to get up from a sitting position. Often, this is complicated by some of the common symptoms of arthritis, which often cause a persons joints and muscles to become tighter after not moving for an extended period of time. Since standing, in addition to sitting, is something that often causes difficulties for seniors, it is common to invest in a senior lift chair.
What is a Senior Recliner?
Senior recliners, or Lift Chairs, are designed like a standard recliner, but are intended to make it easier for the senior to get into and out of the chair. This is achieved by an electrical lifting system that is located in the bottom of the chair and will raise the frame of the chair slowly upwards. Once the senior recliner is fully raised, it is possible to get into or out of the chair much easier and with less risk of a fall.
There are a number of different senior recliners available on the market, but the most popular manufacturers are Pride Mobility and Golden Technologies, who have both been making senior recliners since the mid-eighties. While the design of Pride Lift Chairs and Golden Lift Chairs can vary, they both are well respected in the medical supply industry.
Designed With Simplicity In Mind
Since most of those using a lift chair are over the age of sixty-five, the chairs are designed to be used as easily as possible. To this end, the hand control that is responsible for raising and lowering the senior recliner is usually built with simplicity and ease of use in mind.
For example, even infinite position lift chairs, which are the most customizable in how the backrest and footrest can be moved, still have very few buttons that are large, easy to see, and well spaced. They also usually have a two button control scheme built in, which will allow the entire chair to be controlled using only two buttons.
Two Position and Three Position Lift chairs, which are less customizable in regards to the movement of the backrest and footrest, have a much simpler hand control, usually with only two large buttons on it.
Other Features
In addition to being very easy to use and providing a comfortable place to sit and relax, in addition to allowing for the senior to safely stand up unassisted, senior recliners also offer a number of extra features. These extra features, which are usually included as an upgrade, include things like built in heat and massage, which can be great for those with arthritis.
There are also a great number of fabrics available for most models. While some of these fabrics are simply different colors, there are also a number of fabrics available that are more stain resistant or more breathable, which can be important for those who sit for an extended period of time. Both Pride Lift Chairs and Golden Lift Chairs offer similar upgrade fabric options, but, of course, the names of their custom fabric lines is different.
There are also other upgrades available for lift chairs, such as a straight lift upgrade. The Straight Lift Upgrade makes the senior recliner raise straight upwards, instead of the slight angle that is found on standard lift chairs.
No Comments |