Published by Steve Hedberg on August 15, 2009 Under bath lifts
A fall in the bathroom is something that can be very serious and is often compounded by surfaces that become very slippery when wet. Often, getting into and out of the bathroom is something that presents that biggest obstacle for a senior, so finding a way to make taking a bath easier is very important. There are several common ways to do this, but a bath lift is one of the most common.
Basic Bathroom Safety
Before describing the different types of bath lifts, it is important to mention general bathroom safety. Due to the numerous hard surfaces in the bathroom and the fact that these surfaces will inevitably become wet, no matter what bath safety device you use, it is essential to take other measures to reduce the risk of falls.
This involves removing bath mats that could slip and replacing them with non-skid bath mats, as well as providing adequate grab bars throughout the entire bathroom. The bath mats and grab bars should not only be placed in front of the bath tub, but also in front of the toilet and sink.
Plastic Chair Bath Lifts

Plastic Chair Bath Lifts are probably the most common type of bath lift and provide a simple molded plastic chair that is attached to a scissor lift. The scissor lift raises the chair up to a level that is even with the wall of the bathtub and back down again, allowing the senior to safely enter and exit the bath tub.
Most of these bath lifts are designed so that there is no permanent installation required, relying upon a set of very strong suction cups to hold the bath lift in place. Often, a special tool is required to break the seal of the suction cups, as they are incredibly strong.
These types of bath lifts are powered by a battery that is located in the bath lifts floating hand control. When not in use, the hand control can be removed from the bathroom and charged, so there is little risk of electrical shock. The water proof hand control typically only has two large buttons, an up and a down button, and will not lower the bath lift into the tub, unless it has a sufficient charge to raise it again. While most are electronically powered, a few water powered bath lifts are also available.
The design of plastic chaired bath lifts is basically the same, although some offer a reclining backrest and improved headrest. In the case of a reclining back rest, the back rest begins to recline as soon as the bath lift is fully lowered. A reclining backrest can make using the bath lift much easier.
Most of these types of bath lifts are placed towards the middle of the bath tub and this requirement is most strict of reclining bath lifts, which must be far enough away from the back wall of the bath tub to fully recline.
Restraints are also usually available for these types of bath lifts, including seat belts and shoulder straps. There are also accessories, similar to swivel seats, that can make it easier to transfer into and out of the bath tub.
Often, with these types of bath lifts there is little difference between the different brands and sometimes they are the exact same bath lift, just with a different brand name, so it is important to do a little bit of research to get the best deal. Always ensure that the bath lift can sufficiently support the weight of its user, that it will fit the bath tub before ordering, and that it is covered by an adequate warranty.
Inflatable Bath Lifts

Inflatable bath lifts are made out of a sturdy plastic similar to that of an inflatable bed. The base is secured to the floor of the bath tub with suction cups and inflated and deflated to make getting into and out of the bath tub easier.
Usually, a small cushioned backrest is provided, but it is nowhere near as high as that of a plastic chaired bath lift. Instead, the bath lift is positioned towards the rear of the bath tub, so the actual wall of the bathtub provides back support when the bath lift is not inflated.
One major advantage of inflatable bath lifts is that they are easy to travel with. They don't take up much space, nor do they weigh very much.
However, inflatable bath lifts do typically cost more than the standard plastic chaired bath lift and many people do not find them as comfortable or practical for everyday use.
Walk in Bath Tubs

Another option is to invest in a walk in bathtub. Walk in Baths have a water tight door in the wall of the bath tub, which can be opened when the bath tub is empty to allow the user to easily enter the bathtub.
Walk in bathtubs come in a variety of designs and usually one of the distinguishing factors is how high the wall of the bathtub raises. Some offer a relatively high bathtub wall of upwards of over four feet, while others are more like a traditional bath tub.
It is not uncommon for these bath tubs, especially those with higher walls, to have built in benches and grab bars, as well as offering jacuzzi jets.
Due to their design, however, it is necessary to get into the bath tub before filling it up, which means ensuring that the water is not set at a level that could scald the user. It is of course also important to not overfill the bath tub when using the other types of bath lifts, as when the person enters they will displace a certain amount of water, but there is no way to draw the bath prior to the person entering the bath tub when using a walk in bath.
Walk in baths, which are typically steel reinforced, are considerably more expensive than most bath lifts and require that the old bathtub be removed.
Patient Lifts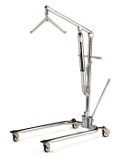 It is also possible to install a patient lift in the bathroom, of which the Hoyer Lift is probably the most well known. Hoyer Lifts, which are also often used in bedrooms, operate similarly to a crane to lift the individual out of the bathtub and offer a number of different patient harnesses.
Hoyer lifts are most often used in situations where a caretaker must do most of the work of getting the patient into and out of the bathtub.
No Comments |