Published by Steve Hedberg on September 9, 2009 Under lift chairs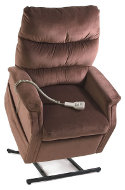 Seniors and other individuals who have limited mobility often find that it is very difficult to stand and sit, with those affected by arthritis among this group. Many find that it is extremely hard to get into and out of a sitting chair, especially after they have been seated for awhile, such as during a long television program. To help promote a safety and independence, many people use lift chairs.
The lift chair is used to make standing possible for those with limited mobility and offers all of the comforts of a traditional recliner, while also acting as a lifting aid to safely raise the user to their feet.
Lift Chairs: The Early Years
Lift chairs were originally developed during the eighties, but the first generation of lift chairs were not very safe or well made. This is because, since lift chairs were new, there were no established lift chair manufacturers and only few quality medical equipment manufactures.
Instead, most people that sold lift chairs at this time were simply taking a regular recliner, which was often a low end model to begin with, and outfitting it with a lifting system. Since these regular recliners were never intended to be raised and lowered on a constant basis, they were not very durable and the frame often gave out after a short period of time after being exposed to the stress of being raised into the air.
The lifting system used in these first generation lift chairs was also below par, as they made use of a spring lift system. While there were many problems with spring lift chairs, the biggest problem was that once the lift chair was activated, there was no way to stop it. This meant that if the user accidentally pushed the button, they could be unexpectedly thrown from the chair. In the nineties, this would be a big part of the reason that congress would pass legislation regarding Medicare Lift Chairs, which restricts reimbursement to only the lifting mechanism of the chair and requires that it operate in a smooth and safe manner.
The Development of a Safer Lift Chair
This went on for some time, until the middle of the eighties when Golden Technologies and Pride Mobility began making lift chairs. Both of these companies took a path that was revolutionary at the time and began custom building the frame of the lift chair. This allowed them to use higher quality wood and building designs, which were able to withstand the daily stress that is given to lift chairs.
Golden Technologies and Pride Mobility also did away with the spring lift system and instead used an electric lifting system, with a constant pressure switch. Not only did this do away with the jerky and unreliable operation of a spring lift system, but it also meant that the lift chair would only raise while the button was being pushed. This way, if a senior accidentally pushed the lift chair button, they did not risk being thrown from the lift chair.
The standards and designs developed by Pride Mobility and Golden Technologies forced other lift chair manufactures to follow suit or go out of business, which many of them did.
Popular Lift Chair Manufacturers
Today, Pride Lift Chairs and Golden Lift Chairs remain the most common and well known lift chairs in the lift recliner industry. Their quality and style is well known and they are the most popular choice for senior health aids. Both Pride Lift Chairs and Golden Lift Chairs are available in a number of different styles and each company offers several different lines to address different needs, as well as being covered by a comprehensive warranty.
However, Pride Lift Chairs and Golden Lift Chairs are not the only lift chairs available, with several smaller manufactures also offering lift recliners of similar design. When choosing an off brand, it is important to be diligent and properly research them, to ensure that they will be able to continue to provide support for your lift recliner in the years to come. Unlike Pride and Golden, few other medical companies have been around as long or have as good of a track record.
Learn More About Lift Recliner Manufacturers
No Comments |